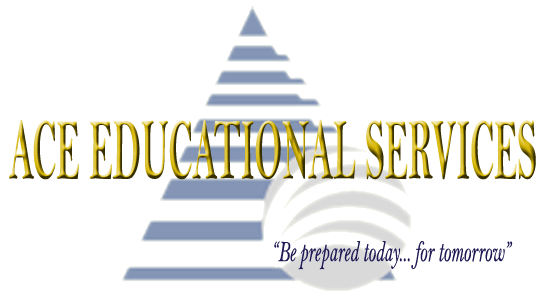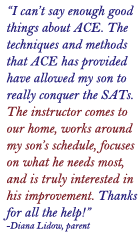 (877) 968-6223
www.aceeducation.com





For over twenty years, ACE Educational Services has offered the very best in One-on-One instruction to students in Greater Los Angeles and the San Fernando Valley. Our extensively trained math experts and verbal experts will help you prepare for the ACT,
PSAT*
and NEW SAT, as well as provide tutoring in a variety of
academic subjects
. We work with you individually, around YOUR schedule, and tailor the program based on YOUR strengths and weaknesses. If you are looking for the very best in test preparation and academic tutoring, you have found it in ACE Educational Services!




ACE programs are One-on-one, instruction takes place in your home, and lessons are scheduled when it is best for you: afternoons, evenings, and/or weekends. Every ACE program is tailored to your specific needs. This approach is especially beneficial for students with busy schedules due to sports, drama, and other extracurricular activities. Unlike in the traditional classroom setting, our students never waste time while others are trying to grasp the answers to problems they do not understand. In addition, students feel more comfortable asking questions and expressing any confusion since they are not surrounded by a room full of peers. With personal, individualized attention, distractions are eliminated so students maintain focus on their studies and their instructor. A four-hour lecture in a classroom can become tiresome and boring, but a one or two-hour session with an ACE instructor is long enough for students to absorb the material and short enough to keep their attention. All ACE programs are designed around the principle that a tailored, One-on-one approach allows students to spend more time on their weaknesses and material that is challenging for them.

After you have looked at other programs, we are confident that you will discover that ACE Educational Services is the only truly personalized, One-on-one program that is always tailored to the student.  Understanding that each individual student has different strengths and weaknesses, ACE instructors make certain that students receive the specialized attention and help that uniquely reflect their particular needs. We are able to provide this non-generic approach because our instructors are extensively trained for about 30 hours per subject. Each instructor goes through a selective initial screening process, and if selected, is tested on his/her teaching ability. Not only do we require that our instructors score well on the ACT and/or SAT, we also make sure that they are able to clearly communicate ideas to others. Once an ACE instructor is hired, he/she must go through a rigorous training program led by the Executive Director, George Yuster. George Yuster, an ACT/SAT expert with over 30 years of experience in the test preparation industry, is one of the main reasons that ACE is the best in the business. As one of the top ACT/SAT instructors in the nation, George developed all of the course manuals, strategies, and techniques that we employ here at ACE. His experience and expertise is passed along to all of our instructors. As a result of this and all of our other benefits, no other company matches the services offered by ACE.
*PSAT/NMSQT is a registered trademark of the College Board and National Merit Scholarship Corporation, which were not involved in the production of, and do not endorse, this product.
**SAT is a registered trademark of the College Board, which was not involved in the production of, and does not endorse, this product.


© 2021 ACE Educational Services, Inc.